Are you a new executive looking for a free 30-60-90 day plan PowerPoint template? A 30-60-90 day plan Google Doc template?
You're in the right place. The templates offered in this article have you covered. We will share fundamentals around what to include and how to use it don't change, no matter your role, company, or technology preferences.
Why does this matter? First impressions are everything when starting a new role. Those who are able to quickly establish trust and credibility not only feel secure in their positions, they also gain the influence to make fast progress on their top priorities. Hence, few things are more valuable than a well-structured approach to guarantee a great first impression. 
Free 30-60-90 Day Plan PowerPoint Template (PPT)
To help get you started, we created a free 30-60-90 day plan for new executives for PPT. Here's the link to download for free and our quick breakdown of what's included:
• 30 days: Learn and assess
• 60 days: Align on a roadmap
• 90 days: Execute on early-initiatives
Free 30-60-90 Day Plan Google Doc Template 
For those who prefer the Google suite of services, we've got you covered, too. Here's your download to the 30-60-90 day plan template for Google Docs. In addition to the bullet list above, this template includes:
• A roadmap template for key deliverables
• A worksheet to track KPIs
• A stakeholder outreach plan
To understand the value of each of these template slides, one must understand the key steps to actually create and leverage this 30-60-90 day plan template for Google Docs. Read on to learn how to use it effectively.
4 Steps to Leverage the 30-60-90 Day Plan Template For Executives
Getting your 30-60-90 day plan template free download is only half the work. Putting it to proper use is just as important. To help with that work, here are 4 key steps for leveraging this template:
1.  Interview stakeholders
2.  Prioritize initiatives with the ICE framework
3.  Set yourself up to score early wins
4.  Deliver crisp, clear messaging
Below, we dive deeper into the key steps listed above, sharing specific best practices for each. 
1. Interview stakeholders
The content that informs your 30-60-90 plan template will come from stakeholder input and interviews. When you first join a new company, you have leeway and leverage to ask lots of questions. Use it to the fullest!
Start by creating a comprehensive list of team members to interview. There's no better place to start than with your new co-workers who have a much deeper understanding of the team, the product or service, and the business at large. Then, get your manager's input on who to add and/or remove from your list. 
During your "listening tour," ask open-ended questions. Since your goal is to get as much context as possible, cast your net wide with questions like:
1. What are your top priorities for this quarter and this year?
2. How can I help you in my new role?
3. How do you see us working together?
4. What are some of the most impactful initiatives you've worked on?
5. What are potential roadblocks I should watch out for?

Even if you're a subject matter expert, your job here is to be a sponge as you soak in your new environment. Your past experience offers a good reference point, but your judgment should be informed and adapted to your present situation. Let go of any preconceived notions and avoid anchoring only to your past experiences.
The learnings from your "listening tour" are an important entry point into your 30-60-90 day plan (think first 30-60 days), and will help inform the roadmap you'll soon be creating.
2. Prioritize initiatives with the ICE Framework 
After your interviews, you'll be left with a laundry list of priorities that your stakeholders care about. To whittle things down to the most critical priorities, we recommend using the ICE framework. If you're new to this framework, don't fret! Here's how this simple tool works: 
The ICE framework considers three key variables in order to rank by priority:

With your list of priorities from your listening tour, assign each item a 1 to 4 score (1 being low & 4 being high) and multiply to get a total score. The items with the highest scores should be prioritized on your roadmap.
When it comes to the ICE framework, you may encounter iterations that use different scales. For example, some people rank each of the three variables on a scale from 1 to 10. To help get you started, here's an ICE framework template using a 1 to 4 scale as originally mentioned.
3. Set yourself up to score early wins
The ICE framework ultimately helps you create a one-year roadmap. But within that year, you'll be paying special attention to the near-term in order to inform your 30-60-90 day plan template. What are small, but high-impact initiatives you can complete in your first 90 days? Filter for the items scoring high on "Ease," then sort by "Impact." 
In our free 30-60-90 day plan PowerPoint template (download here), the last section focuses on execution. Part of a great first impression is to demonstrate action, not just strategy. So commit to a few manageable initiatives that can quickly be completed but have a high impact. 
With a few quick wins under your belt, your new team will have demonstrable proof that you are ready and able to make a difference at the organization. Generally, as you are getting started in a new role: Underpromise and overdeliver. 
4. Deliver crisp, clear messaging
Remember that creating any type of plan is only half the work when a team is involved. Communicating that plan comprises the other half. We've got you covered, as our 30-60-90 templates for PPT (download here) and Google Doc will help ensure your reputation as a strong communicator. 
When presenting your 30-60-90 day plan, keep the focus on the appropriate level of detail. Above all else, your audience will want to see that you have a high-level plan in place. Then, they'll be watching to see that you've identified some clear next steps.
Keep in mind that communicating your plan will take place somewhere between the 60 and 90 day timeline as you gear up for execution. Typically, companies understand that the first 30-60 days in your new role are reserved for learning and assessing (i.e. interviewing stakeholders and using a framework like ICE to sort out your roadmap). Without this "grace period" for learning, you wouldn't have a solid plan to communicate in the first place.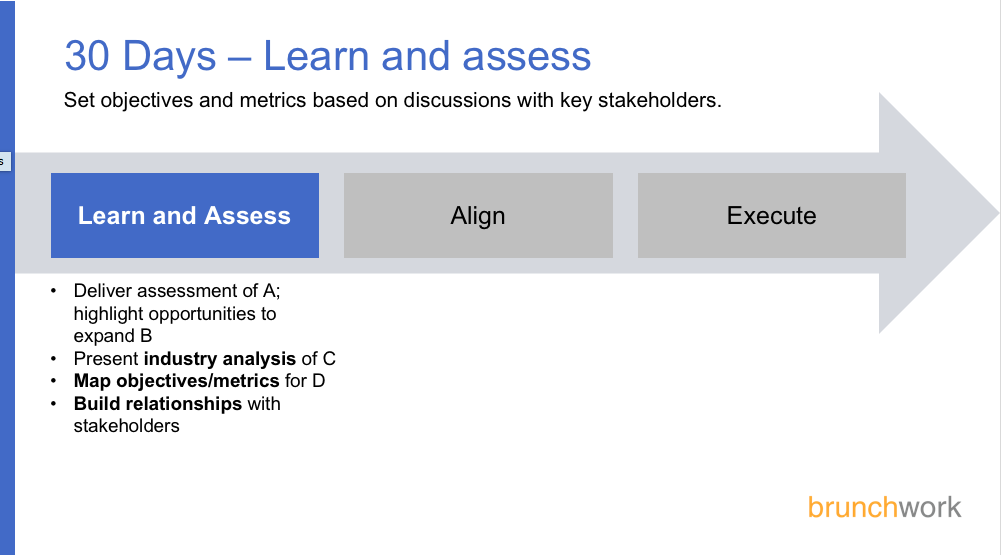 Doubling Down on Success with brunchwork's
Business Intensive
While this article features a couple of snippets of what's included in our free 30-60-90 day plan template (download here),  make sure you're fully equipped for success with your own copy. In any new role, building a strong reputation early on will pay major dividends later—from raises, to promotions, to job security, and more.
To take this work a step further, ambitious professionals should check out brunchwork's Business Intensive course, where you can develop 8 core business skills through immersive projects taught by today's top business leaders. Example projects include:
• Refining and testing a business concept
• Creating a high-caliber presentation
•  Analyzing financial reports
•  Developing a business strategy
•  Crafting a marketing and sales plan
•  Conducting user interviews
•  Building a no code website
Previous guest speakers of this program have included high-profile business leaders, like former Presidential Candidate Andrew Yang, PayPal Founding COO David Sacks, Ellevest Cofounder and CEO Sallie Krawcheck, product gurus Gayle Laakmann McDowell and Jackie Bavaro, and Peloton Cofounder, Graham Stanton.
Of course, your new role might have you focused on the first 90 days of leading a specific team or initiative. But consider how a comprehensive business acumen may allow you to double down on success in your role, even beyond those first 90 days. To that end, downloading your free 30-60-90 day plan template and enrolling in a continued education program could set you up for ultimate success. To learn more about Business Intensive and to view the course curriculum in detail, interested folks can read up here.