8 Best Product Strategy Courses
1. brunchwork's Business Intensive Course
2. Pragmatic Institute's Strategic Product Planning Course
3. Udacity's Nanodegree Program
4. ProductPlan's Metrics & Data Email Course
5. PMHQ's One Week Technical Product Manager
6. Udemy's Technical Product Management: Learn on 4 Real Industry Cases
7. VirtualSpeech's Essential Public Speaking with VR
8. Improve's Club Improve Membership
Product Strategy Courses: A Wide Range
Are any of these product strategy courses worth checking out? Well, for most aspiring or existing product managers, the short answer is yes. Fortunately for those in the product management space, the community is rich in information. If you know which skills you'd like to refine, chances are, there's a digital product strategy online course for you.
The first step is understanding the breadth of skills that fall under the product management umbrella. The following graphic displays the five core competencies of product management.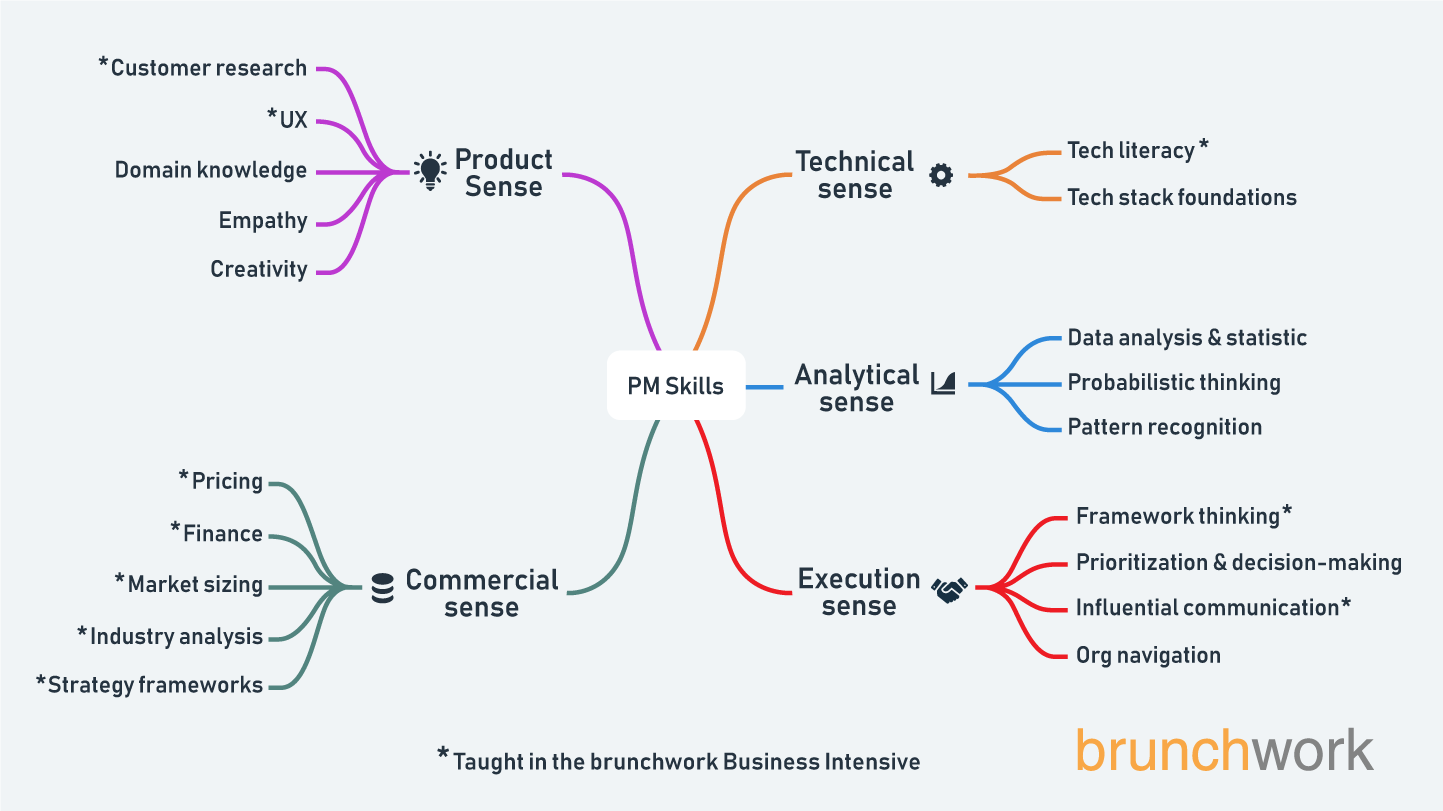 Product Sense
Product sense is what many immediately think of when they hear "product management." This competency requires a deep understanding of the customer, a focus on product discovery, and a knack for bringing user-friendly products to life.
Analytical sense
There's a reason data-scientists sometimes transition to become product managers. It's because they have stellar analytical sense. Data-driven decision making has become a must, especially for the product manager with bountiful product data at their disposal.
Commercial sense
Commercial sense revolves around competitor dynamics and product pricing. What do competitors charge for similar products? How might a unique pricing model act as a product differentiator? Questions like these only scratch the surface of commercial sense.
Technical sense
Certain products simply require more technical expertise than others. For those managing a complex IT product, for example, deep technical sense is a must.
Execution Sense
Execution sense is critical for the leadership side of product management. This might involve organizing the backlog, managing the roadmap, securing stakeholder buy-in, and communicating clearly to all relevant departments in the organization.
The 8 Best Product Strategy Courses
With the backdrop of the above five core competencies, it makes sense that digital product strategy courses range widely in scope and focus. Each competency presents an opportunity to go deep on learning and skill development. With so much to explore, we organized the following 9 courses to help guide your search for the perfect one.
For an Overall Education:
brunchwork's Business Intensive Course
This immersive, wide-reaching business course covers a lot of bases for current and/or aspiring product managers. Business Intensive offers a holistic product management education, across eight core business skills:
• Strategy & Finance
• Pricing
• Web Development
• Communication & Presentation
• Sales & Influence
• Customer Research
• Marketing & Branding
brunchwork is a pioneer of the "flipped classroom," so you can expect exciting live discussions, hands-on projects, real-time feedback, and meaningful networking.
Weekly speakers from the world's leading brands are our secret sauce. You'll get to tap into the minds of top executives at companies like Netflix, Peloton, Nike, Google and more. And inside relevant, recent case studies. 
For an Education on Product Sense
Pragmatic Institute's Strategic Product Planning Course
Product planning is everything. Pragmatic Institute offers a number of courses that overlap with product manager core competencies. PI's "Focus" course is worth checking out for product managers starting at the beginning of the product life cycle. No product is successful without a well-thought out strategic plan, and Pragmatic Institute will teach you how to craft one.
For an Education on Analytical Sense
This data-specific product management course from Udacity gives you the tools to become a Data Product Manager. Participants will create a data-backed product proposal, build a scalable data strategy, and learn to iterate on a product using data-driven decision making. Udacity labels this course as a "nanodegree" and it takes three months to complete.
ProductPlan's Metrics & Data Email Course
Roadmapping software company, ProductPlan, has a rich library of resources for product managers, including this course specifically geared towards product management metrics. The free email course looks at a real-world example to help early product managers learn the data and tools that matter most in today's product landscape.
For an Education on Commercial Sense
brunchwork's Business Intensive Course
While Business Intensive offers a great overall education for refining your product management skills, this course particularly excels in all things commercial sense. Some commercial sense topics covered in this course include: market sizing analysis, revenue growth strategies, competitor analysis, financial metrics and analysis, and more. Again, all Brunchwork sessions are led by industry-leading experts and thought leaders.
For an Education on Technical Sense
PMHQ's One Week Technical Product Manager
What does it really take to be a technical product manager? The technical sense competency can be intimidating for those lacking the kind of background in line with a data scientist or software engineer. But fear not. PMHQ's one-week course attempts to cut out the noise and teach the essential skills needed for this technical role, regardless of prior technical experience.
Udemy's Technical Product Management: Learn on 4 Real Industry Cases
This short and affordable 4-part course offers a solid starting point for those just diving into the technical product management space. Featuring 26 different lectures, participants can expect to gain a baseline education by learning key definitions, use cases, and the typical steps on the pathway to becoming a technical product manager.
For an Education on Execution Sense
VirtualSpeech's Essential Public Speaking with VR
VirtualSpeech is bringing today's cutting-edge VR technology to the world of leadership training. It's no secret product managers need to be great communicators, and oftentimes public speaking comes with the territory. With this course, product managers can refine their public speaking skills from anywhere in the world. And while VR is preferred, VirtualSpeech also offers alternative course delivery formats.
Improve's Club Improve Membership
The Club Improve membership is less of a course and more of an ongoing subscription, but it's worth a mention for those looking to improve their execution sense. For $30/month, Club Improve members gain access to a leadership curriculum designed for leaders in fast-paced environments. The goal is to smile more, communicate better, and feel more joy at work.