When it comes to succeeding as a content creator, Alana Mayo knows her stuff. After all, she's worked as a content creator for more than a decade. She's done stints at Mad Chance Productions, 20th Century Fox, Vimeo, and Paramount Studios.
Today, she's Head of Production for Michael B. Jordan's Outlier Society. They're a production company that focuses on making films addressing issue-related content. Started in 2016, Outlier Society is already well-known for movies like Fahrenheit 451, Raising Dion, and Just Mercy, which is based on the memoir of civil rights attorney and Equal Justice Initiative founder Bryan Stevenson.
Alana joined Outlier Society at the beginning of January 2018. She wanted to work with Michael B. Jordan because all the content his company creates evokes meaningful conversations, such as how Just Mercy addresses systemic racism and injustice.
When Alana led a workshop at brunchwork, she shared four expert insights into how to succeed as a content creator. If you're a content creator — especially if you're creating film or TV — these four principles from Alana will be very helpful.
1. Leverage Social Media To Get Your Content Into the World Quickly.
There used to only be a select few gatekeepers to the content world, and those individuals were quite powerful. You couldn't get your movie into a theater without a distributor, nor could you get a show on TV without selling it to a network.
Then came the internet, which has (and continues to) change everything.
To Alana, the content creation taking place on Instagram, Twitter, and TikTok is just as exciting as when people write a screenplay, submit it to an agent, and get it into a studio. In fact, she recently spoke with a producer who optioned a video he found on a content creator's Twitter. The video inspired him, and he brought on Peter Ramsey (the director of Spider-Man: Into the Spider-Verse, Rise of the Guardians, and more) to produce it. This type of thing just didn't happen before. But these days, there's an incredibly high demand for content, especially with people staying home more due to COVID-19.
There has simply never been a better time in the world to be a content creator. If you have an idea, make it happen. Don't wait for someone else. Make sure the content is top-notch, something you stand solidly behind. Get feedback from others, be hard on yourself creatively, then share it with the world.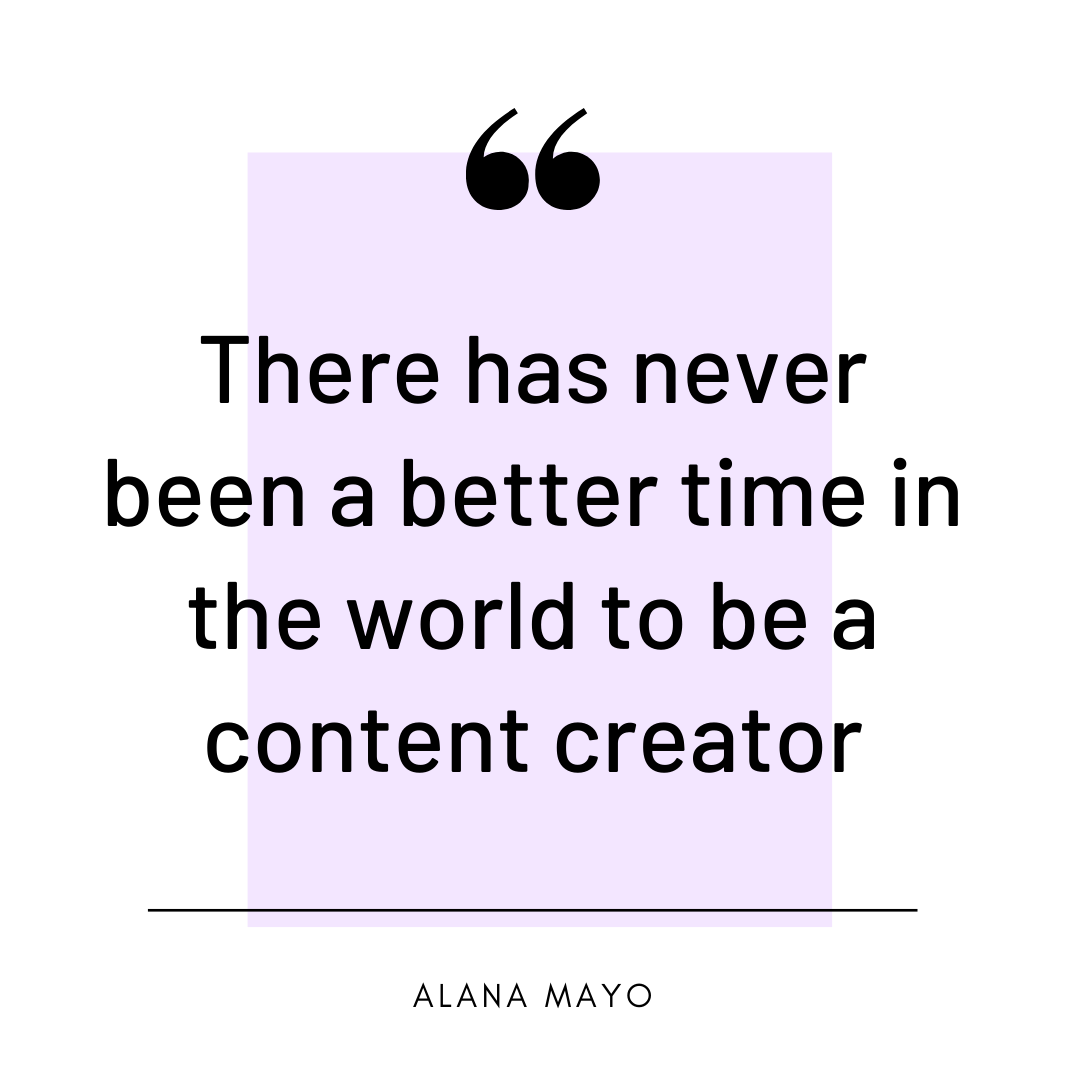 2. Harness the Power of Social Media For Marketing.
Hiring a publicist is expensive, and might not always be possible or worth it, depending on your budget. Plus, Alana truly believes that the best way to hone your craft and see if audiences like it is to publish it on some sort of social media platform in short form.

And while you may not be able to put a lot of money into marketing, you could invest some of the funds you do have in smaller promotional efforts, such as YouTube ads, finding someone with a large social media following to promote your work, or leveraging Vimeo's marketplace.
Get ahead in your career.
Learn from top business leaders, understand key trends and build your business acumen. Get intel and advice, for free.
3. Create Content that Empowers Viewers and Reflects the World.
As a content creator, you decide what content is truly valuable. But it's important to remember that projecting images into the world is a privilege, and it comes with responsibility. It's not just about showing the audience different experiences. It's about telling stories in a way that leaves an impact with viewers long after the credits stop rolling.

Outlier Society, for example, doesn't want to simply present traumatic experiences. They also want to create content that educates, provokes, and hopefully contributes to real-world issues in a positive way; they want to show the brilliance, dreams, and potential of people of color, specifically Black people. This effort positively impacts both the people who watch the films and shows, and those who make them, too.

So, when you've decided you have a story to tell, take it one step further. What impact do you want it to have on people, what change in the world do you want to contribute to, and how will your content achieve those goals.
4. Stay Lean.

Work with less, even when it comes to financing movies. Alana was very clear about the fact that she would never allow the studio she leads to finance a $20M+ movie on its own. Because the return you'd need to get and the amount of capital you'd need to dedicate to marketing it are exponential.

While it's true that some companies produce movies that cost hundreds of millions of dollars, the main reason they do that is to create franchises, and to be able to say that those franchises bring in $1B (or more). That, in turn, increases the valuation and share price of the publicly-traded umbrella company that owns them.

In reality, though, this is all smoke and mirrors. None of those companies is really profitable. The reason Disney, Amazon, and Apple stock is worth so much has nothing to do with the content they create. Disney, for instance, owns massive assets and huge libraries of intellectual property (IPs), such as Lucasfilm and Marvel, and they also have the entire parks business. It's not related to the movies and TV shows they make.

Therefore, Alana posits that if you're not one of those behemoths, it's dumb to make a movie that costs that much money. That model is almost guaranteed to fail. Instead, spend $5M on a film that will ultimately make $100M (for example), like Jason Blum does. Blum made the first Paranormal Activity for $15K and raked in almost $200M from it. That's a much better model to work off of.

This goes for any type of content creator. Figure out how you can spend minimal dollars on creating your art and sharing it with the world. 
What did you think of these tips? At brunchwork, we host the world's top creators and business leaders each week.
For more valuable insights, subscribe to our weekly newsletter and check out one of our brunchwork at home events, where you'll connect with experts from all different types of industries.