Breaking into product management? You're in the right place.
If you're eager to learn how to get into product management, you're not the only one. As one of today's hottest fields, product management has rapidly risen in popularity among professionals around the globe. And for good reason! There's a lot to be attracted to here, as we'll cover throughout this post.
The thing about this field – and the reason so many don't quite know how to get into product management – is that it's not the most conventional career path. Whereas the steps required to become a software engineer or a marketer might be simple to follow, that isn't so much the case with product manager skills and product manager jobs.
But we're here to help. In this guide-style post, we will examine the rise in popularity of the product management field, common PM career steps, and some key tips for how to get into product management, including:
1) Develop the right technical and non-technical skills for product managers
2) Embrace the product management venn diagram
3) Learn some common product management methodologies
4) Pursue effective professional networking
Finally, we'll finish with a career development suggestion to tie it all together – one that offers an opportunity to develop these essential product management skills. We will recommend a hands-on, structured learning experience: the Business Intensive.
Breaking Into Product Management Is Smart.
First, some context. If you had wondered how to get into product management ~10 years ago, you might've been one of just a few. But since then, the field has exploded. In fact, according to product management software company, ProductBoard, the demand for product manager jobs outpaces the demand for other roles by a factor of five. In just two years following 2017, the number of PM roles grew by 32% in the US. This surge in demand has prompted the company to dub the current state of the field, "the golden age of product management."
What is driving such demand for product management roles? A handful of key trends offer an explanation.
Time-to-market has gotten shorter
An increase in demand for product managers is the result of something that will seem obvious: an increase in products! Largely driven by the tech industry, we've seen how software products can go from idea to sellable product in a matter of weeks or months. That means a shorter time-to-market window, which means a larger volume of products on the market. With that increase comes a need for more people to manage those products.
The halo effect of tech
Many of today's most innovative companies are in the tech sector – the ones offering awesome perks, attractive pay, and big-time resume builders. While a large percentage of the roles at these attractive companies are tech-based (think software engineers and developers), there will always be a need for non-technical roles. For those looking for the fast-paced, benefits-rich experience of a leading tech company, product management has emerged as one of the best options.
Attractive earning potential
Product management jobs have the potential to earn well into the six figures. Just take the average PM base salary in the San Francisco Bay Area: $134k. Reach a director-level role, and that number rises above $200k. For a field that does not require one to master a complex coding language or other highly-specific skills, the product management earning potential can be quite attractive.
The Product Manager Career
Once you break into product management, there is a typical trajectory from entry-level to senior-level roles. For example, from entry-level to senior-level:
• Associate Product Manager
• Product Manager
• Senior Product Manager
• Director of Product
• VP of Product
• Chief Product Officer
While there may be a traditional trajectory once you break in, there is nothing traditional about the adjacent fields that feed into product management. Some PMs come from marketing, some from sales, and others from engineering. 
A previous role doesn't necessarily qualify or disqualify one from breaking into the field, but it may shape the type of product manager they become. For example, someone who has transitioned from engineering to product may take on the role of a technical product manager, which would give them an advantage in understanding the engineering side of the product.
As we'll cover in the next section, a great product manager isn't just defined by previous experiences. Rather, it's just as much about honing the necessary skills and competencies required to succeed, once on the job. Examples include great communication skills, unwavering empathy for the end user, and stellar organizational abilities. Those skills can come out of any field.
Breaking Into Product Management: 4 Things to Start Doing Now
Whether you're planning to break into product management, or just freshening up your product manager resume, we have some pro tips. Here are four things to start doing now in order to set yourself up for landing a great product manager job.
1. Develop technical skills for product managers, and non-technical ones too!
One cannot become an effective product manager without first understanding the technical and non-technical skills involved. A good place to start is with brunchwork's breakdown of the five "senses" of product management. We break down all of the necessary skills product manager skills.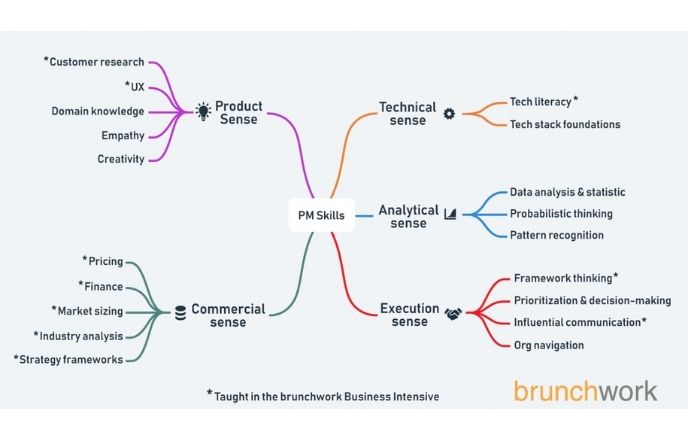 These competencies make up the bulk – if not the entirety – of the product manager job. Master as many of the five senses as possible, and your product manager resume will begin to look more and more authentic. Note that some of these skills can be self taught, some require first-hand experience, and others are best suited to be taught in a hands-on educational forum.
2. Embrace the product management venn diagram
Product leader and expert, Martin Erikkson, describes product management as the intersection of User Experience (UX), Business, and Technical skills. Here is the product management venn diagram for visual representation, courtesy of Mind the Product.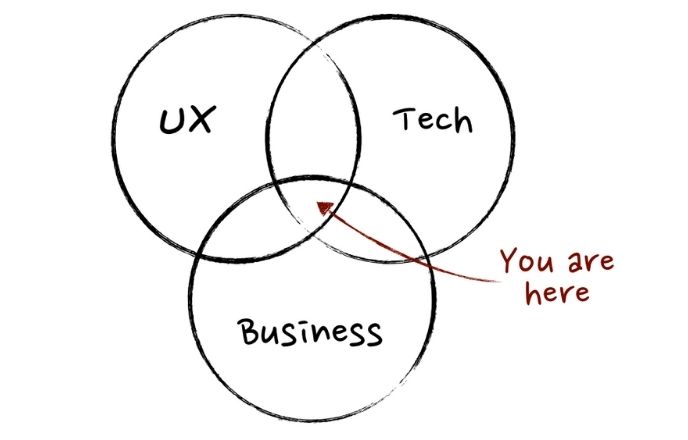 This description of product management aims to capture some critical areas of focus. UX, because a PM needs to completely understand the end user's experience with the product. Tech, because a PM must communicate effectively with engineers for iteration and development of the product. And Business, because product decisions should always serve the greater company's business goals and objectives.
To master one of these areas could take a lifetime. Instead, product managers must embrace the role of the generalist. Knowing a decent amount about a lot of things (business, UX, sales, marketing, tech, etc.) is critical for product management success. This is why you'll often read about the importance of "cross-functional" communication and collaboration for PMs.
3. Learn some common product management methodologies
Product management is one of the most framework-reliant fields around. That means it will only serve you well to learn a handful of the most common PM methodologies. For starters, we'll give you two of some of the most common frameworks: Design Thinking and Agile.
Design Thinking
Design thinking is a human-centric product development method that aims to solve problems by focusing closely on user experience (UX). Design thinking can be highly collaborative, and it's known for its facilitation of "outside the box" thinking. For more on this methodology, look no further than IDEO, the design and consulting firm that popularized it more than 30 years ago.
Agile
The Agile methodology is a common approach to product management that involves continuous, iterative development. Agile was first conceived as a software development methodology that allowed teams to roll out products and improve them as they go. Many product managers are required to get familiar with Agile because the teams developing their products often operate using Agile principles and concepts. Much has been written on Agile, and a good place to start is this overview from Atlassian.
4. Pursue effective professional networking
If you're unsure about the cross-functional communication required in a product manager job, better start practicing now. As mentioned earlier, product managers need to be comfortable talking to various departments and teams throughout the organization.
Aspiring product managers who aggressively pursue PM roles are often successful in their pursuit for the same reason they'll be successful as PMs: they talk to a bunch of different people and soak up tons of information. Professional networking is often the first step in the right direction, and that means reaching out to anyone who makes sense. It could be co-workers at your current company, co-workers at your old company, PMs at a company you admire, or anyone in your LinkedIn network that has "product manager" in their title. Remember that the more professional connections you strengthen, the more doors are bound to open over time.
A Structured Learning Experience to Break Into Product Management
For some of us, the difference-maker in pursuing a career path can be as simple as adding some structure to the pursuit. For example, a hands-on curriculum that facilitates the development of the five product management senses, teaches relevant frameworks, fosters professional networking, and more.
Enter brunchwork's Business Intensive mini MBA course. For those who want to take their product management aspirations to the next level, Business Intensive provides a great launchpad.
Business Intensive
at a Glance
• Length: 2 months
• Format: Online and in-person
• Cost: Starting at $1,499
What You'll Learn in
Business Intensive
This two month program teaches eight core business skills that are highly relevant to rising product managers and product designers.
Example projects include:
• Refining and testing a business concept
• Creating a high-caliber presentation
• Analyzing financial reports
• Developing a business strategy
• Crafting a marketing and sales plan
• Conducting user interviews
• Building a no code website
Weekly guest speakers include high profile business leaders, like former Presidential Candidate Andrew Yang, PayPal Founding COO David Sacks, Ellevest Co-founder and CEO Sallie Krawcheck, and Peloton Co-founder, Graham Stanton. 
For those seeking a professional development experience that emphasizes some of the key pillars of breaking into product management, Business Intensive is the way to go.