If you're on the hunt for the best MBA alternatives for aspiring entrepreneurs and business professionals, you've come to the right place. With so many options on the market, choosing an MBA alternative isn't so easy. In this ultimate guide, we aim to help you find a solution that fits your specific hopes and needs.
In order to break down the best mini MBA programs, we've split our recommendations into two categories: Structured and unstructured options. We recognize that an MBA alternative can mean different things to different folks—and while some may want a virtual classroom experience, others may be looking for some inspiration for self-directed education.
MBA Alternatives: Structured Options
1. Take the brunchwork Business Intensive — named a top 'Alternative to an MBA' by Forbes!
2. Startup accelerators
3. Massive Open Online Courses (MOOCs)
4. University programs
MBA Alternatives: Unstructured Options
5. Getting involved with local start-ups or nonprofits
6. Starting your own side hustle or business
7. Taking on a cross-functional, stretch project at work
8. Joining professional clubs or organizations
Alternatives to the MBA Program: Today's Landscape
Before diving into each of the above alternatives, let's first consider today's landscape when it comes to MBA programs and business schools. For many of us, our parents' generation viewed the traditional MBA as the safe career move. Earning that MBA certificate effectively guaranteed a certain level of success in the business world. But today, traditional business programs are not as critical for success—one of many reasons that MBA alternatives are on the rise.
This trend should be celebrated. For decades, MBA candidates entered business school with big dreams only to exit with crippling debt. It's not just the $500,000 cost that gives us pause—MBAs don't offer the value they used to. It's easy for bureaucratic institutions to fall behind when the world is moving at a breakneck speed. Today, a rising faction believes the MBA is useless.
Luckily, you no longer have to pursue a six-figure MBA or pause your career to get access to networking, career opportunities, and business skills. The following list of alternatives to the MBA provides a helpful guide to your question, "What can I do instead of the MBA?"
Alternatives To MBA: Structured Options Deep Dive
MBA Alternative #1: Take the brunchwork Business Intensive
Ranked as one of the best mini MBA programs, brunchwork has helped thousands of professionals build their networks, skill up, and improve their careers. Dubbed its Business Intensive, brunchwork offers this three or six-month online course focused on developing eight critical business skills via sophisticated projects. 
You'll walk away from the Intensive with actionable knowledge in: Strategy & Finance; Pricing; Communication & Presentation; Sales & Influence; Customer Research; Marketing & Branding; Web Development.
brunchwork is a pioneer of the "flipped classroom," earning the company a spot atop Forbes's 10 best online business courses. In this type of immersive education experience, you can expect exciting live discussions, hands-on projects, real-time feedback, and meaningful networking.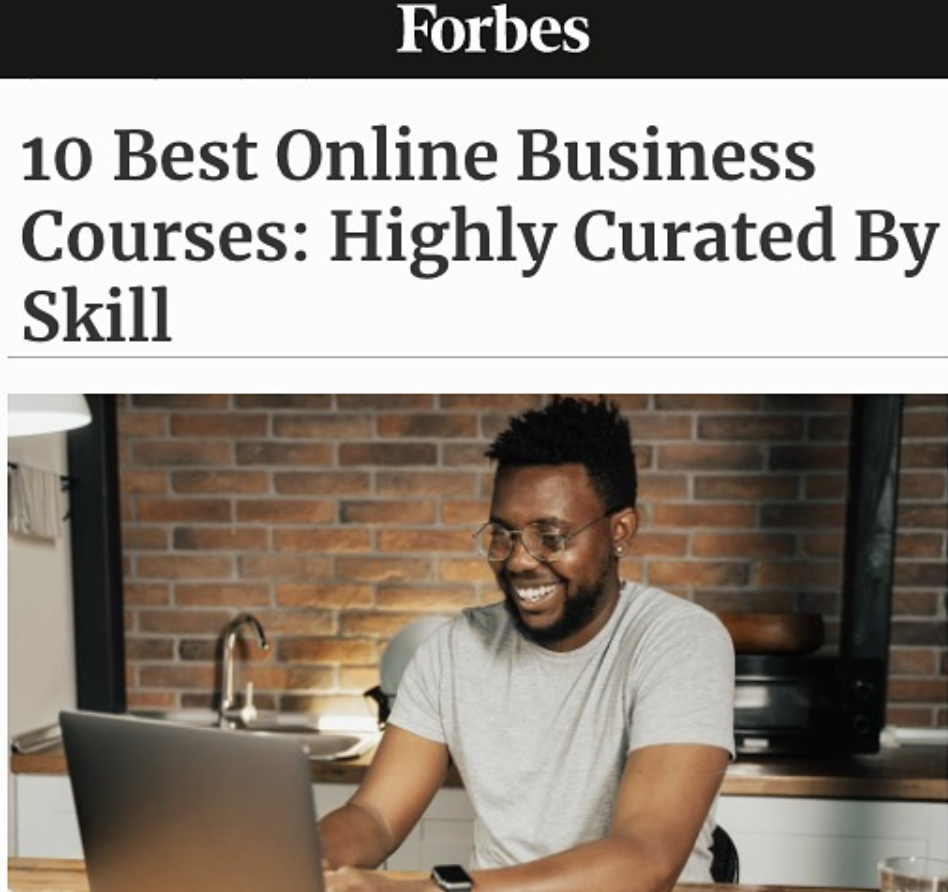 You'll get to tap into the minds of leaders from companies like Canva, Patagonia, Peloton, Nike and more. Weekly speakers from the world's leading brands are this MBA alternative's secret sauce.
MBA Alternative #2: Startup accelerators
For those running a startup on the verge of raising institutional capital, the next MBA alternative on our list is the startup accelerator. Just a few of the most well-known accelerators in the industry include Y Combinator, Techstars, and Berkeley SkyDeck.
Instead of chasing an MBA certificate, a startup accelerator offers entrepreneurs the opportunity to "learn while doing," amongst a cohort of other founders. However, the experience comes with unique costs that should not be taken lightly. Accelerators typically take a sizable chunk of equity in exchange for a small-to-moderate capital investment (i.e. Y Combinator will give you $125,000 for 7% of your company).
We'd be remiss not to mention that accelerators are typically very competitive and not widely accessible. Y Combinator's acceptance rate is a mere 1-2%—a lower figure than Harvard's undergrad acceptance rate!
MBA Alternative #3: Massive Open Online Courses (MOOCs)
Another option for today's DIY learners is the Massive Open Online Course, often abbreviated as MOOC. This type of online learning leverages the internet to offer education to an unlimited number of participants (hence, "massive").
MOOCs are typically free and offered by a number of institutions, from universities to blue-chip tech companies. Distribution of these online courses often happens through web platforms like Coursera or Udacity.
Massive Open Online Courses are great for democratizing education. However, as one might expect, this route presents some limitations. MOOC attendees should not expect much as far as networking benefits, personalized attention, or live programming.
MBA Alternative #4: University programs
A growing number of universities today offer mini MBA programs, a trend that largely started thanks to companies like brunchwork. A quick look at a list of some of the best mini MBA programs reveals some key takeaways.
First, there's a huge variance in what you get from university programs. Some programs cost thousands of dollars while others cost much less. Some offer live programming while many do not.
Second, buyers should beware that mini MBAs will never truly be a university's bread and butter. Universities preserve an overwhelming amount of their resources for full-time, in-person education. So, depending on your program of choice, you may land yourself in a slightly neglected branch of a university's educational offerings.
Alternatives To MBA: Unstructured Option Deep Dive
MBA Alternative #5: Getting involved with local start-ups or nonprofits

Local startups and nonprofits always need help. Through mentoring, investing, volunteering, or part-time work, you can seek hands-on experience that may be just as powerful as an MBA. After all, they say experience is the best teacher.
If startups aren't your jam, you can build your skills and make a difference with organizations like Catchafire or Taproot, where your skills will be matched to nonprofits in need. You can put in as much or as little time as you wish, from short consulting sessions to helping develop business plans. Similar to startup mentorship, this approach offers the opportunity to learn about new areas of business.
MBA Alternative #6: Start your own side hustle or business
Again, the best kind of learning comes from doing. The founders of Apple, Facebook, and Virgin Group would all agree. You don't need an advanced degree to build a billion-dollar business. You just need to put in the hard work.
It's no secret that launching a startup costs money. Just think, that $200,000 you were going to put towards a traditional MBA could instead be invested in your own business. Plus, it's never been easier to start a company thanks to no code tools like Bubble.
Where do you start? Programs like our Business Intensive can help—we give you the tools and frameworks you need to take a side hustle or company off the ground.
MBA Alternative #7: Take on a cross-functional, stretch project at work
Don't be afraid to take on a new role outside of your comfort zone. Moving horizontally can help you pick up skills and even jump-start a new career path.
Try taking on a stretch project —an assignment that will challenge you to think outside of your expertise. You'll be forced to problem-solve and tap into new leadership or business management skills.
MBA Alternative #8: Join professional clubs or organizations 
Growing your network is one of the best ways to make your career bloom. But, it won't happen overnight. Building professional relationships takes time and effort.
Becoming a member of professional clubs and organizations is a great way to connect with industry leaders, further your knowledge, and gain access to career opportunities. Many of these groups will often offer special conferences, events, workshops, and more.
Whether you're interested in marketing or startups, there's a niche group for everyone. Some groups that might be worth checking out include Women In Product or American Marketing Association.
Cross-functional learning opportunities also empower you to increase your value and professional relationships. Taking on projects that involve working with people from different functions will give you a high-level overview of your company and position you to become a better leader or manager. Take the next step. Talk to your boss about a stretch project this week!
Takeaway: What Are The Best Alternatives To An MBA?
The only thing traditional business school is disrupting is your bank account. In a rapidly changing world, a stagnant six-figure degree is no longer worth it. Thankfully, as covered in this guide, top-notch MBA alternatives can give you access to a network, career opportunities, and relevant skills to help you get ahead.
So, if you've been asking yourself, "What are the best alternatives to an MBA?", now you have some answers. We would love for you to join us in our next Business Intensive. There's no better time to rewrite your future and advance your career.