Considering a micro MBA? We applaud you for honing in on the fastest, most flexible option for business education. 
Mini MBA programs offer a streamlined and efficient path to career acceleration and professional development. In this post, we cover everything you need to know about this educational resource. 
What Is a Micro MBA?
A micro MBA, or a mini MBA program, is an accelerated business education designed to teach busy professionals the necessary skills to succeed in the business world. 
Micro MBA coursework helps students acquire in-demand business skills. The best mini MBA programs offer curriculums similar to full-time MBAs. However, many opt to focus exclusively on the most practical and usable skills with relevance to today's business world. As a result, great mini MBA programs cut through the noise and better consider how to add immediate value to students. 
Typically, these programs demand a time commitment between a few weeks to a few months. Programs in this space are a fraction of the cost of full-time MBAs, with many costing less than a few thousand dollars. We are still talking about a meaningful investment, but nowhere close to the cost of traditional graduate programs. 
Common Topics Covered in Micro MBA Programs
While different mini MBA programs are unique in their offerings, they often share a significant overlap in the topics they cover, ensuring a comprehensive understanding of essential business principles. Examples include: 
• Business Development: In the areas of general business development, students learn strategies for business growth and expansion—market analysis, partnership development, innovation techniques, and more
• Finance: Mini MBA curriculums that touch on finance may emphasize the recording, summarizing, and reporting of business financials. This includes understanding financial statements, balance sheets, income statements, and cash flow statements to make informed business decisions. 
• Operations: This area covers the core aspects of business operations, such as management and organizational structure.
• Sales and Marketing: A critical component of any business, sales and marketing focus on customer engagement strategies, branding, digital marketing trends, and sales techniques.
• Web and Software Development: Mini MBAs with an eye toward modern skills-building may include introductory content on web and software development. For example, beginner-friendly skills include building "no code" websites, enabling students to create digital platforms without needing extensive coding knowledge.
Each of these topics (and more) may appear in any well-rounded mini-MBA program. At their core, these topics are critical pillars to understanding the business world, making them worthy additions to a great curriculum. 
Top 3 Mini MBA Programs to Consider
Picking a mini MBA program that best suits your needs is important. Each one offers unique time commitments, objectives, and course material. Our top three recommendations below are designed to serve specific audiences, from professionals to managers to startup founders. 
1) Business Intensive (for professionals and entrepreneurs)  
2) McGill University Mini MBA Series (for advanced managers) 
3) Y Combinator (for startup founders) 
1. Business Intensive: Best Micro MBA for Business Professionals and Entrepreneurs
brunchwork's Business Intensive  is designed to transform students from passive consumers of business concepts into active business leaders. Both Forbes and intelligent.com recognized the course as the best online business course in recent years.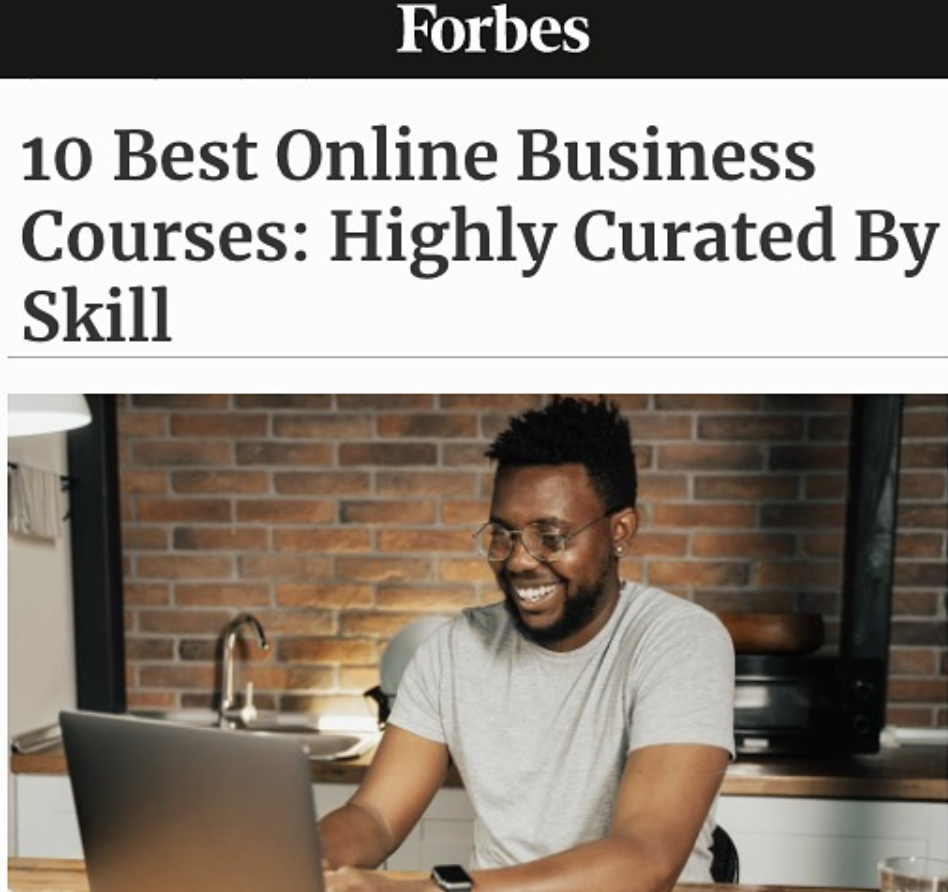 Business Intensive, at a glance:
• Length: 7 Weeks
• Format:Fully online 
• Cost:Starting at $1,499
The 7-week course teaches eight core business skills including: strategy, sales, marketing, pricing, and finance. The experience centers on real-world skills-building, and students benefit from hands-on projects including:  
• Pitch a business idea
• Develop and test a business strategy 
• Run a market sizing, revenue growth and competitor analysis
• Conduct user interviews
• Analyze financial reports and models
• Develop and execute a marketing and sales plan
• Build a no-code website
This micro MBA features live weekly guest speakers, keeping the experience fresh and dynamic for each new cohort. Guest speakers have included Andrew Yang, PayPal Founding COO David Sacks, Ellevest co-founder and CEO Sallie Krawcheck, product gurus Jackie Bavaro and Gayle Laakman Mcdowell, and Peloton Cofounder Graham Stanton.
2. McGill: Micro MBA Program For Advanced Managers 
McGill University's micro MBA offers three different programs, each tailored to students' career stage. These include the executive development course (EDC) ,the advanced management course (AMC)and the integrated management thinking course (IMT) .
McGill University's McGill's micro MBA, at a glance:  
• Length: 3-4 Months 
• Format: Online & In-Person  
• Cost: Starting at $4,895
Topics for the courses include human resource management, strategic analysis, accounting and finance, managerial negotiations, and marketing. Students can choose to take one series or all three depending on their needs, availability, and budget. 
3. Y Combinator: Micro MBA Program for Full-Time Startup Founder
Y Combinator is a startup accelerator that provides seed funding and guidance to startup founders who are accepted into the program. This program is best for founders who want help launching their businesses but are new to entrepreneurship. Y Combinator has a tremendous track record, boasting companies like Airbnb and Stripe as alumni. 
Y Combinator, at a glance: 
• Length: 3 Months
• Format: In Person and Online 
• Cost: 7% equity (could be worth millions!)
There is no tuition for Y Combinator. Rather, they invest $125,000 for 7% equity in each company that enters their program. Y Combinator is highly selective, accepting just 1.5% of applicants. For reference, a top business school such as Stanford accepts 6.1% of applicants. 
Is A Micro MBA Worth It?
A strong case can be made for the value of a micro MBA, particularly when compared to more traditional graduate school options. A full-time MBA program from a top business school costs $200,000 or more and takes two years to complete. Mini MBAs commonly demand 1% or less of this financial investment. 
In other words, while a full-time MBA program probably isn't worth it anymore, micro MBAs have emerged as an option that makes more sense. And it's not just about costs. For many ambitious professionals, two years is simply too much time to leave the workforce. A few weeks or months of part-time instruction, however, is manageable. With the right mini MBA, you'll get much of the same information as a full-time program in less time by cutting out inessential information and theory.
Professionals today don't have to sacrifice their careers by leaving their full-time jobs to complete a game-changing educational experience. Instead, mini MBAs allow you to develop your leadership abilities, decision-making skills, and earning potential with immediate application.
All this to once again say—yes, a micro MBA is worth it for a wide range of individuals. 
An Attractive Option in Today's Business Environment
As we wrap, consider how our evolving global environment has created expected and unexpected challenges for professionals and entrepreneurs. From technological advancements to shifting market demands to record layoffs to post-pandemic readjustment—we've seen quite a lot in a short period of time. 
Some may find security in the mini MBA as an option that feels more comfortable given our evolving global environment. The significant time and financial commitment of traditional MBA programs can be a daunting prospect for anyone wanting to ease into today's business world. In contrast, the micro MBA approach allows professionals to stay agile, adapting quickly to new business trends and information without being weighed down by the longer, more rigid structure of traditional programs.
In a business environment that is constantly changing, a mini MBA curriculum equips professionals with a diverse and adaptable set of tools. Between flexibility, accessibility, and cost-effectiveness, you really can't go wrong.
Is a Mini MBA Program Right for You?
For the best business education in the shortest amount of time, a micro MBA makes for a great choice. There's no better way to level up your professional networking and business skill development, all while keeping your full-time job.
Get your micro MBA application in today! We are currently accepting applicants for the Business Intensive and would love to see you in our next cohort.