Looking for a business newsletter to read? You're in the right place!
The COVID-19 pandemic has left many of us with a lot more time on our hands. And we feel pretty confident in guessing that you're searching for more things to do during quarantine. That's why we've put together a list of 20 top-notch business newsletters for you to subscribe to—ones you may not have heard of before!
We certainly don't think you need to be productive every single moment, but we also don't believe you should spend all your time zoning out on the couch. Just because many aspects of your life are on hold doesn't mean you should postpone your professional growth. Instead, spend some time each day consuming content that'll help you learn and grow.
Some of the newsletters we chose are more general, while others address specific topics like marketing and fintech. No matter which you choose to add to your inbox, reading them regularly will help you elevate your career. Happy reading!
1. AVC
Union Square Ventures co-founder Fred Wilson has been a VC for over three decades. His newsletter shares his daily thoughts on current happenings in the startup and VC space, including how current events (like COVID-19) are affecting both.
2. Below the Fold
As a group of journalists and technologists, Acciyo's goal is to fix the news for you. First, with a Chrome browser plugin that provides you with context for what you're reading. Second, with their newsletter, Below the Fold, which highlights the important news that isn't making headlines, such as how blockchain is helping to fight COVID-19. Acciyo reminds us that not all lessons and takeaways are featured on the front page. Some of the most important information we need to know is hidden behind it.
3. brunchwork
A bit of a humble brag here, but we're really proud of the newsletter we send out each week, which includes business and career strategies from experts like First Round Capital Founder Howard Morgan, Love Wellness Founder Lo Bosworth, and Paypal Founding COO David Sacks. We cover a broad range of industries and also throw in our latest recs for things to read, watch, and do that'll amplify your career. (We'd love to have you as a part of our community!)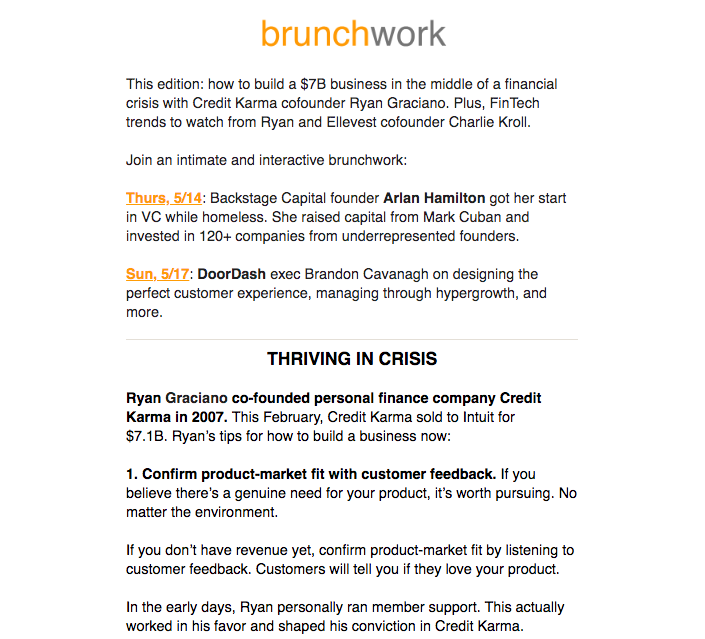 4. Benedict's Newsletter
A round-up of the top 10 to 20 pieces of need-to-know tech and media news, put together by Benedict Evans. Evans is a partner at Andreessen Horowitz who's spent over two decades analyzing mobile, digital media, and technology trends (among many other things).
5. The Daily Pitch
PitchBook's newsletter provides everything you need to know in regards to venture capital, private equity, and mergers and acquisitions. These areas are always rapidly changing, and The Daily Pitch will help you keep up.
6. Femstreet
Women in tech and venture, female-led businesses, female investors, secrets to success, diversity in venture capital, helping women in their careers—that's what you'll read (and more) in this newsletter while you're relaxing with your Sunday morning coffee.
7. First Round Review
This newsletter may be produced by VC firm First Round Capital, but its writers want you to know that it's not your average VC blog. Rather, they've created "the Harvard Business Review for startups." Get crucial insights on how to build a successful company from other entrepreneurs, operators, and more.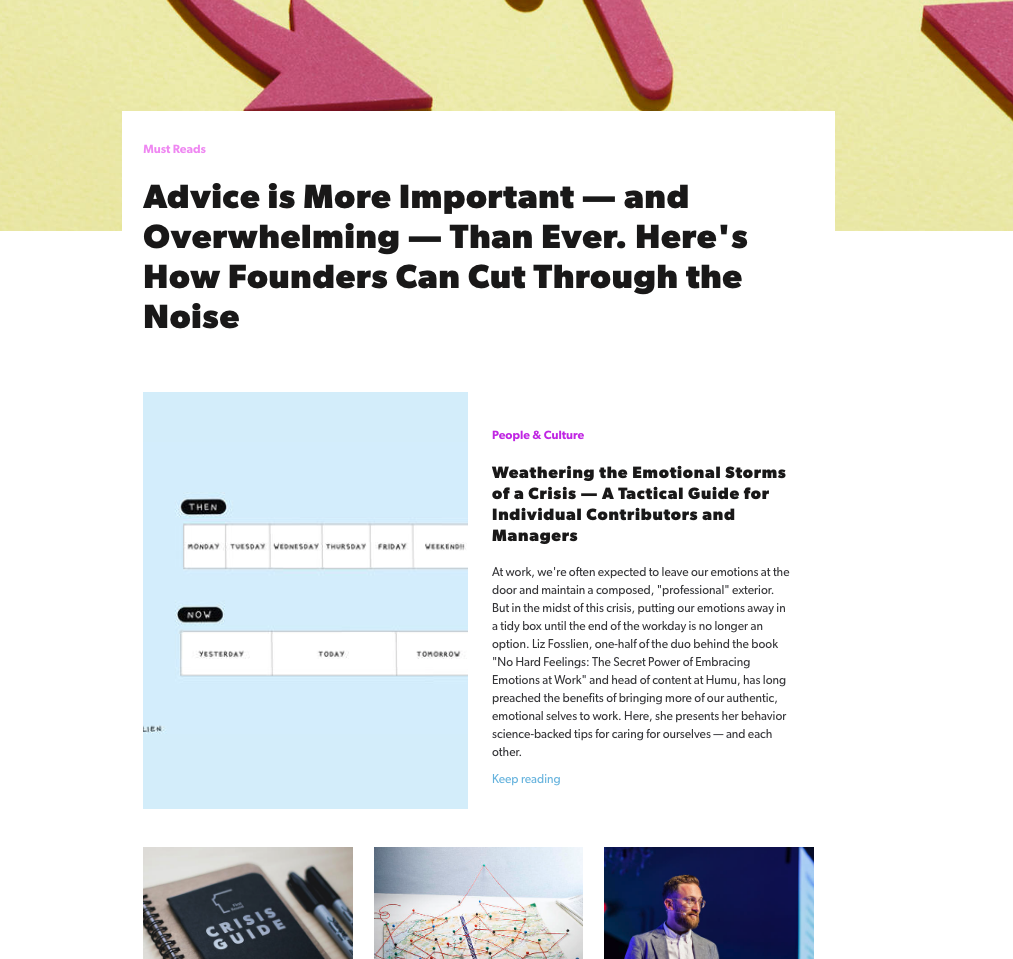 8. TheFutureParty
Looking for a fascinating mix of business, entertainment, and culture? This newsletter has it all. Plus, at the top of each edition, there's a section that features what's trending every day on Amazon, Reddit, YouTube, Google, and more—the perfect catalyst for generating new ideas.
9. Hurry Slowly
Innovative, actionable insights on how to be more creative and resilient in life and business, including ample productivity tips and suggested articles to read on a variety of topics.
10. Stacked Marketer
We tried really hard to resist a pun here, but the fact of the matter is, this newsletter is just stacked with marketing advice. From how to master SEO, to what's the latest news with Google Ads, to creating compelling campaigns, and so much more. It's packed with actionable tips but is still easy (and fun) to digest.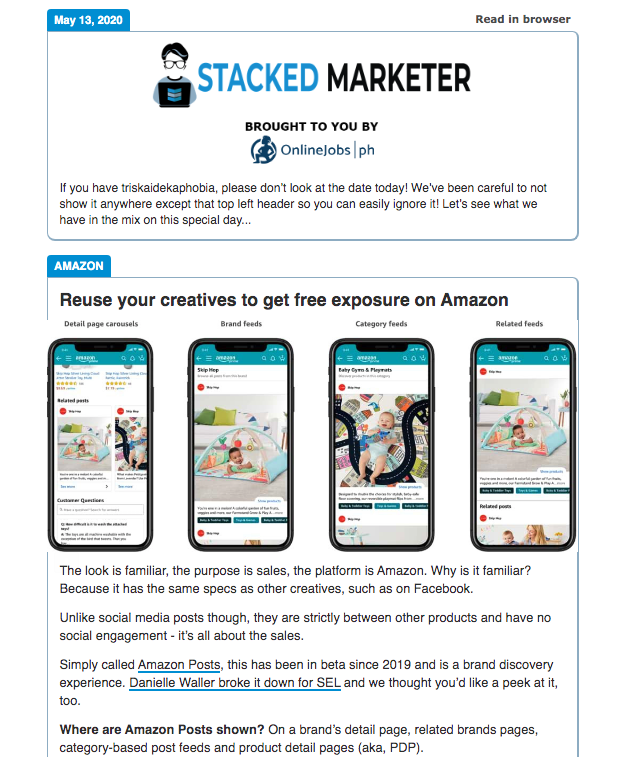 11. For The Interested
Calling all creators! Each week, Josh Spector provides five thoughts on how you can skyrocket your creative pursuits. It's a great resource for those with individual creative businesses, but it's also powerful for anyone in charge of one of their company's creative outlets, like an Instagram account, YouTube channel, or blog.
12. The UX Collective
How can you build the ultimate experience for your users? This newsletter will help you figure out the answer to that. It's chock full of resources that will help you think strategically as a designer. Because the UX Collective's writers are adamant that designers aren't just makers—they're thinkers, too.
13. Chips and Dip
Believe it or not, this one isn't about food! Written by marketing professional and writer Emily Singer, Chips and Dip focuses on the intersection of e-commerce, technology, and branding. The Chips are small tidbits of news and the dips are longer musings Singer has about certain topics, such as how retailers like Glossier are experimenting with the "digital shopping experience" to make up for the fact that most of their physical locations are close temporarily.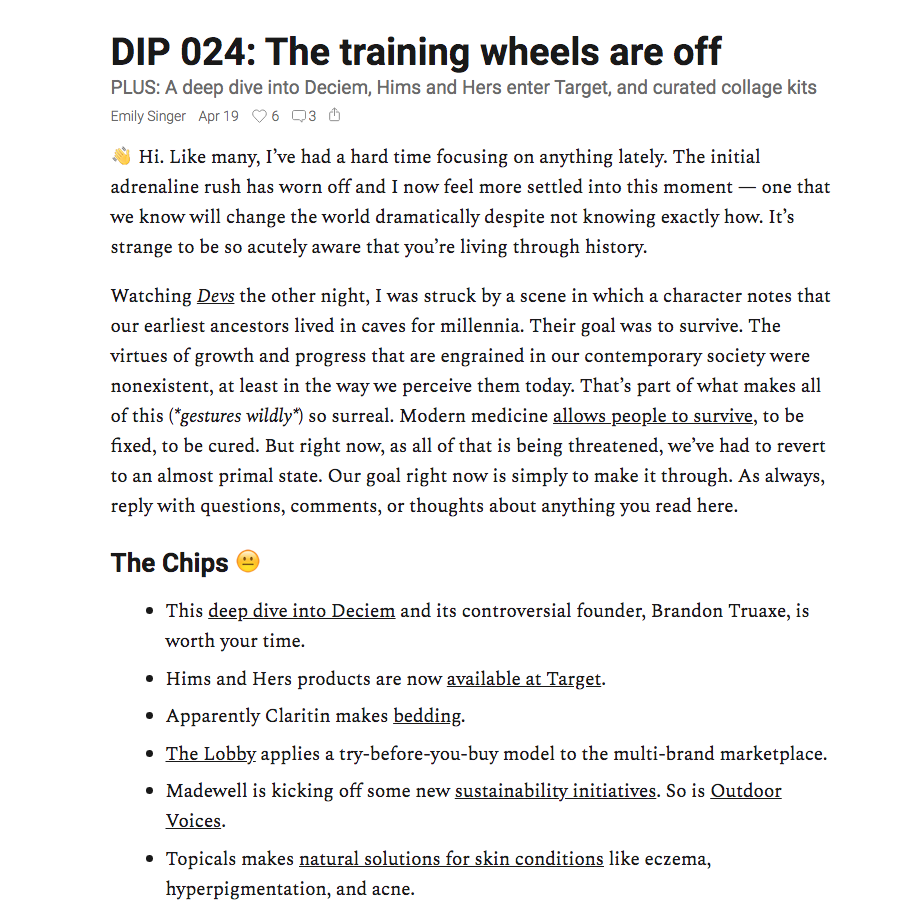 14. 3-2-1 by James Clear
Each Thursday, Atomic Habits author James Clear sends the following to your inbox: three ideas, two insightful quotes from other people, and one question for you to mull over (e.g., "What is something that feels productive to you in the moment, but usually ends up wasting time and energy?" or "Am I tolerating my flaws or improving them?"). It's a quick read that'll get you thinking.
15. 5-Bullet Friday
Tim Ferriss' five favorite things of the week, including gadgets, albums, life hacks, and more. And considering Ferriss is a wildly successful early-stage tech investor, one of Fast Company's "Most Innovative Business People," author of five best-selling books including The 4-Hour Workweek, and so much more, it's probably safe to say that his recommendations are pretty darn good.
16. Anna's Weekly Fintech Review
In a letter to her followers, Anna Irrera—Reuters fintech correspondent and team leader—outlines the most pressing fintech news. Some examples of topics she's covered recently:
• A partnership between Goldman Sachs and JetBlue
• Fintech companies that have recently raised funds or are in the process of fundraising
• Major acquisitions, like Intuit's $7.1B Credit Karma grab

17. Your Guide to AI

Artificial intelligence is pervading every industry—from disease detection to fintech robo-advisors to AI-powered virtual travel assistants, and more. Even some vacuums are "smart" now. Your Guide to AI will help you keep up with the space, from industry-specific developments to booming AI startups.
18. The Lean Startup

This newsletter is written by Eric Ries, entrepreneur and bestselling author of The Lean Startup: How Today's Entrepreneurs Use Continuous Innovation to Create Radically Successful Businesses. The Lean Startup newsletter will provide you with expert insights from Ries, not just on how to create a business, but how to do it in the best way possible. Learn how to be more innovative and successful — all while wasting as little time (and money) as possible.
19. Granted

Each month, treat your inbox (and your brain) to astute observations on motivation, meaning, and leading a more generous and creative life from Adam Grant, an organizational psychologist and Wharton's top-rated professor for seven years straight.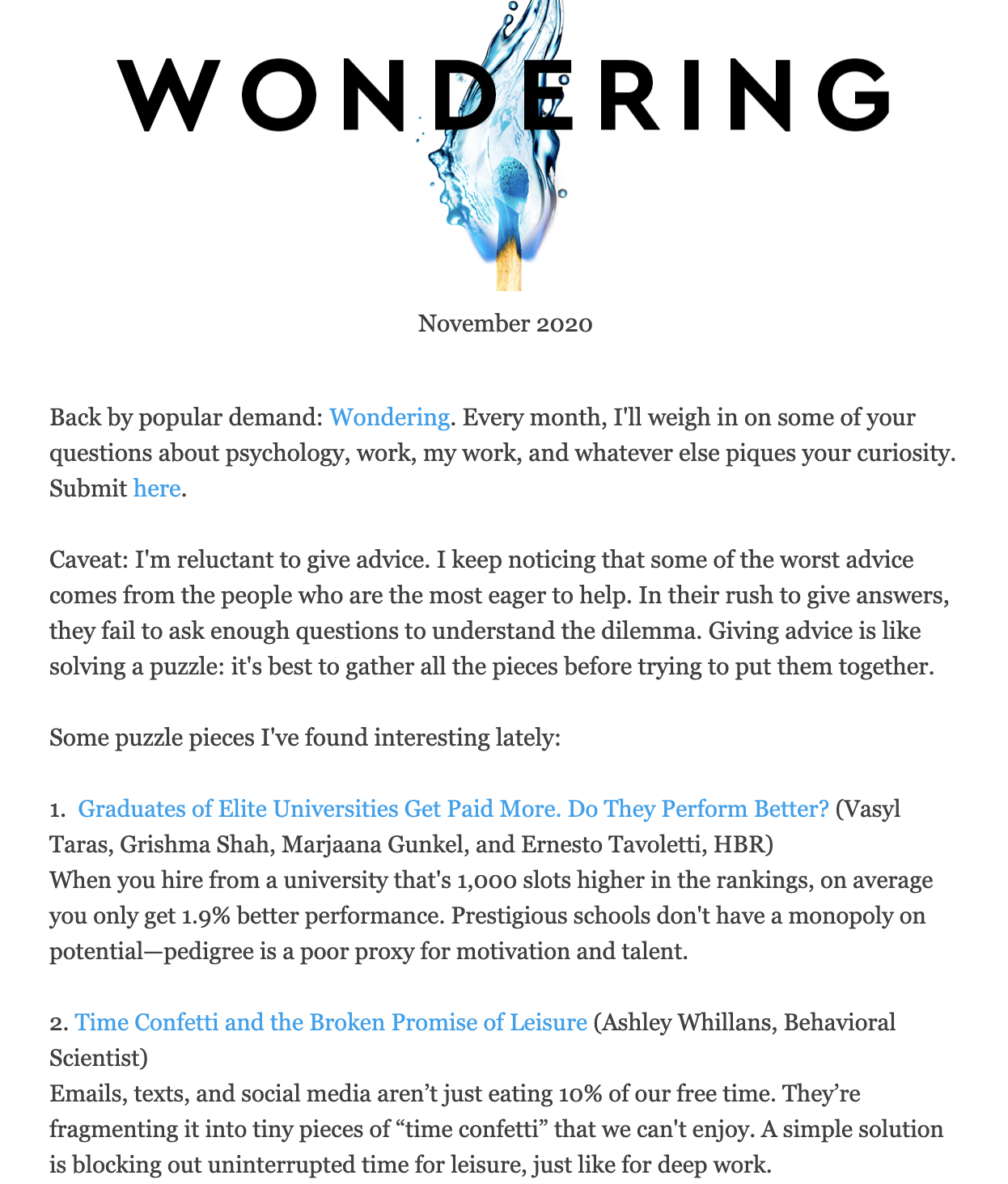 20. eBiz Weekly
While starting an online business is easier than ever, making it successful is, well, not. Making money online is downright hard. By reading eBiz Weekly, you'll make your chances a whole lot higher. Founder Niall Doherty spends about seven hours on each edition, making sure to thoroughly research each topic and write it in a way that'll help you achieve the success you desire.
Many small business owners can struggle with the legal aspect of starting their own business. Annette Stepanian's weekly newsletter clears up much of the confusion. She effectively mixes law and business so you can feel more confident in both! She offers creative legal advice so that you can feel more comfortable building the business you want.
22. TLDR
TLDR (Too Long, Didn't Read) is a daily newsletter full of links and short descriptions of the latest in the tech and science industry. Sent every morning at 6 AM, you will know the latest tech news for the day in just a short time. With its short summaries, TLDR makes staying up to date easy!
23. Check Your Pulse
The weekly newsletter, curated by Sari Azout provides a human-centered approach to evaluating new startups. It focuses on explaining the foundation of startups so that the reader can get a clear picture of each startup featured in the newsletter. Check Your Pulse allows you to curate your newsletter to get the information you are truly looking for. Stay entertained and informed with Sari's newsletter.
Do you have a favorite from this list? Or, are there any newsletters you think we missed? Let us know on Twitter or LinkedIn!
If you're interested in VC or marketing, explore our list of best venture capital newsletters and best marketing newsletters